SanDisk Releases WiFi Memory SD Combo Card
SanDisk has announced the availability of a new 256 MB + Wi-Fi SD Combination card, the world's first card to include both memory and WLAN (802.11b) communications in a single SD card. The card is currently compatible only with Windows Mobile handhelds, Palm OS support is planned but the timeframe is uncertain.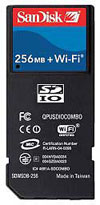 "The SD Combination card makes the best use of the handheld's SDIO slot by combining two important features into a single, small-sized card — wireless connectivity and storage," said Dave Smurthwaite, product marketing manager for mobile card solutions at SanDisk. "In addition to the freedom and flexibility of wireless access, the 256MB of memory conserves precious internal memory of the handheld device by allowing the user to save files directly to the card without first saving them to the internal memory of the device. Without storage on the card, handheld users cannot download large files to their devices because the available internal memory of the device is too small."
Availability of the SanDisk Combination SD card, with shipping planned in the next 30 days to worldwide markets, was announced at the Digital Experience media conference in New York.
The SD Combination card ships with consumer and enterprise-grade security solutions, including WEP, 802.1x, PSK and WPA on the Windows CE platform. It uses Direct Sequence Spread Spectrum (DSSS) Wireless LAN technology to provide bandwidths of up to 11Mbps and ranges of up to 800 feet depending on environment. The low-power device is designed to minimize battery drain, a key consideration for handheld computer users. In addition, combining flash memory and Wi-Fi in one card also represents a cost savings to consumers because if the cards were bought separately they would cost considerably more.
The 256MB+Wi-Fi SD Combination card has a suggested list price of $129. It will be initially available through popular e-tail websites in the Americas, Europe and most of Asia.
SanDisk has repeatedly delayed releasing drivers for the SD only version of this card. First announced in January of 2003, drivers have yet to be released for Palm Powered handhelds. It is unclear when drivers for either product will be made available for the Palm OS.